We are here with Claudia on the launch day of the stunning ending to a trilogy that captured our hearts and has not since let them go. Thank you, for stopping by today as we interview Claudi

a about her last book in the Firebrand trilogy, A MILLION WORLDS WITH YOU.
---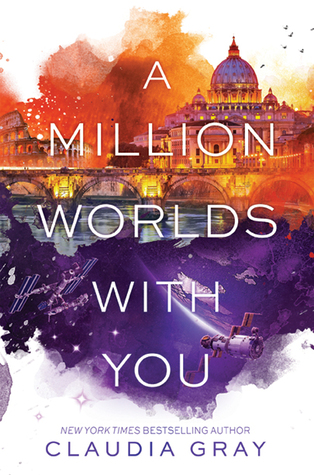 A MILLION WORLDS WITH YOU
by Claudia Gray
Published: November 1st 2016 (that's today!)
Publisher: Harper Teen
A million universes. A million dangers. One destiny.
The fate of the multiverse rests in Marguerite Caine's hands. Marguerite has been at the center of a cross-dimensional feud since she first traveled to another universe using her parents' invention, the Firebird. Only now has she learned the true plans of the evil Triad Corporation—and that those plans could spell doom for dozens or hundreds of universes, each facing total annihilation.
Paul Markov has always been at Marguerite's side, but Triad's last attack has left him a changed man—angry and shadowed by tragedy. He struggles to overcome the damage done to him, but despite Marguerite's efforts to help, Paul may never be the same again.
So it's up to Marguerite alone to stop the destruction of the multiverse. Billions of lives are at stake. The risks have never been higher. And Triad has unleashed its ultimate weapon: another dimension's Marguerite—wicked, psychologically twisted, and always one step ahead.
In the epic conclusion to Claudia Gray's Firebird trilogy, fate and family will be questioned, loves will be won and lost, and the multiverse will be forever changed. It's a battle of the Marguerites . . . and only one can win.
---

About Claudia:
Claudia Gray is a pseudonym. I would like to say that I chose another name so that no one would ever learn the links between my shadowy, dramatic past and the explosive secrets revealed through my characters. This would be a lie. In truth, I took a pseudonym simply because I thought it would be fun to choose my own name. (And it is.)
I write novels full-time, absolutely love it, and hope to be able to do this forever. My home is in New Orleans, is more than 100 years old, and is painted purple. In my free time I read, travel, hike, cook and listen to music. You can keep up with my latest releases, thoughts on writing and various pop-culture musings via Twitter, Tumblr, Pinterest, Goodreads or (of course) my own home page.
If you want to contact me, you can email me, but your best bet is probably to Tweet me. I don't do follows on Twitter, but I follow everyone back on Tumblr, Pinterest and Goodreads.
---
Tales of A Ravenous Reader Interview with Cla

udia Gray
1) Now that the Firebird trilogy is complete what do you miss most about the "worlds" that you created?
I miss inventing them. Each world began with the question, "What would be awesome?" and that's a great way to start anything. It was always so fun figuring them out from the basis of this one great scene or moment, and then building upon that to make the whole dimension.
2) I know it is difficult to pick favorites, but which book in the Firebird series are you most proud of?
Probably TEN THOUSAND SKIES ABOVE YOU, just because I know a lot of trilogy readers talk about "second book syndrome," so I'm proud to have written a book that bucked that trend! I love them all, though.
3) Since you have written YA novels in a few different genres, which is your favorite and why?
Fantasy/paranormal is easier than scifi, because it's easier to make magic behave the way you want than to come up with fake science that feels real. But I feel like it's easier to build upon scifi, to come up with new scenarios that evolve from the past ones to go in new and unexpected directions. So really it's a draw.
4) Is there a "world" that you wish you can have explored in this series but it just didn't work for the storyline.
I very much wanted to write a universe where polyamory was the norm, to show one world where Marguerite didn't choose between Theo and Paul because nobody would expect her to. (And in which Theo and Paul might be more open to each other, for that matter!) Sexual mores and romantic bonds vary a lot throughout the globe, so it made sense that you'd see this kind of variation between dimensions. In the end, though, I couldn't find a way to write that universe so it would truly serve the greater story. I didn't want it to be just a stunt, you know? So, sadly, that universe never got its moment. Hopefully somebody will write that fanfic someday!
Also, I wrote one universe where—though an entirely different set of circumstances—Marguerite still had her older half-brother from the Russiaverse, Vladimir. That universe sadly didn't make the final cut. But I loved Vladimir's character and wanted to show other places where he and Marguerite might meet.
5) What would you like readers to take from reading the Firebird series?
The reactions I've enjoyed most have come from people who say they get caught up in wondering about the what-ifs in their own lives. What other realities might they have found themselves in, if things had turned out just a little different? How would that impact their choices, their personalities? I hope readers come away asking those questions, and get a lot out of their personal answers.
6) Is the ending always as you have envisioned.
"Is this as I always imagined it ending?" For the most part, yes. Originally there was even a little more dimension-traveling than there is—but the final chapters threatened to become too cluttered. As for the future between the characters—now Marguerite, Paul, Theo, Henry and Sophia wind up their personal journeys—yes, that's how I always hoped it would be. Fingers crossed it's what some of you guys were hoping for as well.
I don't know about you but I cannot wait for this last book to be in my hands but I am oh so afraid of what will happ

en. I will have to wait and see.
---
Giveaway Details:
3 winners will receive a finished copy of A MILLION WORLDS WITH YOU, US Only.
Rafflecopter Embed Code:
---
Check out the other stops on the tour!
Week One:
10/24/2016- Seeing Double In Neverland- Recap of A THOUSAND PIECES OF YOU
10/25/2016- BookHounds YA- Recap of TEN THOUSAND SKIES ABOVE YOU
10/26/2016- Fangirlish- What we can expect in A MILLION WORLDS WITH YOU
10/27/2016- Fiktshun- Excerpt from A MILLION WORLDS WITH YOU
10/28/2016- Two Chicks on Books-Interview
Week Two:
10/31/2016- Novel Novice - Series Playlist
11/1/2016- Tales of the Ravenous Reader- Interview <--Release day, that's us!
11/2/2016- Page Turners Blog- Series Photo Board
11/3/2016- Dark Faerie Tales- -Interview
11/4/2016- Mundie Moms - What's up next? Info about Claudia's new book(s)