There's just something about a girl who uses a math formula as the perfect gateway to becoming popular. That's right, Beatrice, aka Trixie, decides to climb the social ladder on the rungs of the pythagorean theorem (or something similar, you get the idea). The catch? She's doing it after her douche of a boyfriend makes a few too many comments about how he wishes they could sit with the cool kids.

I am a big Gretchen McNeil fan so I was thrilled to hear she was stepping outside her horror/mystery arena and into the world of Kasie West, Stephanie Perkins, and Rainbow Rowell. Stepping is an understatement, though, because I'm Not Your Manic Pixie Dream Girl is a slide into home base after a perfect out of the park ball.

Everything you want in a realistic fiction is right here. Complex characters that you don't always like (don't lie, there are days you can't stand even your closest friends), doing things that make you want to shake them. But instead you watch them make the same mistakes you did as a teen so they can learn the same lessons you take for granted as an adult. You hope it's not too painful when the time comes for them and you completely empathize when they cry over the things they've done. Bea is not perfect, her family isn't perfect, and the teens around her aren't either. That's what makes this story so delicious.

In the end, I'm Not Your Manic Pixie Dream Girl will have you cheering for algebreaic formulas and boys who can see through fake personalities.
Christy
---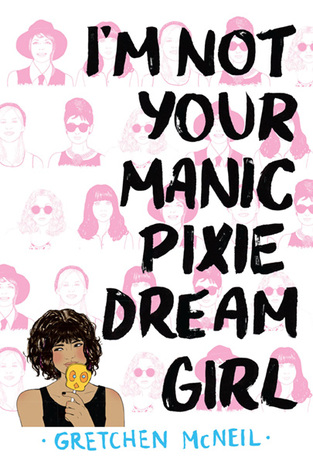 by
Gretchen McNeil
Published
: October 18th 2016
Publisher
: Balzer + Bray
Source
: Publisher via Edelweiss
Beatrice Maria Estrella Giovannini has life all figured out. She's starting senior year at the top of her class, she's a shoo-in for a scholarship to M.I.T., and she's got a new boyfriend she's crazy about. The only problem: All through high school Bea and her best friends Spencer and Gabe have been the targets of horrific bullying.
So Bea uses her math skills to come up with The Formula, a 100% mathematically-guaranteed path to social happiness in high school. Now Gabe is on his way to becoming Student Body President, and Spencer is finally getting his art noticed. But when her boyfriend dumps her for Toile, the quirky new girl at school, Bea realizes it's time to use The Formula for herself. She'll be reinvented as the eccentric and lovable Trixie—a quintessential manic pixie dream girl—in order to win her boyfriend back and beat new-girl Toile at her own game.
Unfortunately, being a manic pixie dream girl isn't all it's cracked up to be, and "Trixie" is causing unexpected consequences for her friends. As The Formula begins to break down, can Bea find a way to reclaim her true identity, and fix everything she's messed up? Or will the casualties of her manic pixie experiment go far deeper than she could possibly imagine?