Jill at
Breaking the Spine
started Waiting on Wednesday (WoW) as a way for bloggers and book lovers to share the books they're more anticipating. Come back each Wednesday for posts about "the" books that we cannot wait to get our hands on.
---
Nancy's WoW
VALENTINE
by Jodi McAlister
Coming 02/2017


Valentine is the first in a smart, witty and page-turning YA series with a paranormal twist for fans of Holly Black and Sarah J. Maas.
Four teenagers – all born on the same Valentine's Day – begin to disappear. As the bodies mount up, Pearl Linford has to work out what in the supernatural hell is going on, before it happens to her.
Finn Blacklin is the boy with whom Pearl shares a birthday, the boy she has known all her life and disliked every second of it, the boy her subconscious has a totally annoying crush on. Finn is also the Valentine: a Seelie fairy changeling swapped for a human boy at birth. The Unseelie have come to kill the Valentine – except they don't know who it is. And now both the Seelie and the Unseelie think Pearl is the Valentine, and if they find out she isn't, she'll disappear too.
Pearl must use all her wits to protect herself. Finn must come to terms with his newfound heritage. And then there's the explosive chemistry between them that neither of them know quite what to do about . . .
---
Christy's WoW
So much love for Gretchen McNeil, who typically writes in the horror/suspense genre. I'm completely intrigued by her first contemporary.
by Gretchen McNeil
Release Date: October 18th 2016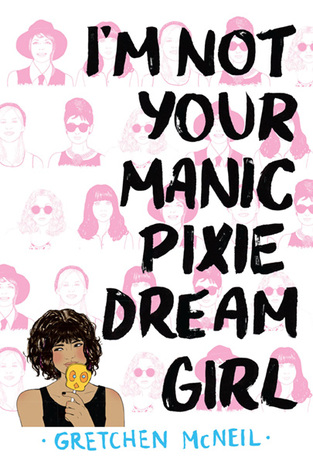 Beatrice Maria Estrella Giovannini has life all figured out. She's starting senior year at the top of her class, she's a shoo-in for a scholarship to M.I.T., and she's got a new boyfriend she's crazy about. The only problem: All through high school Bea and her best friends Spencer and Gabe have been the targets of horrific bullying.
So Bea uses her math skills to come up with The Formula, a 100% mathematically-guaranteed path to social happiness in high school. Now Gabe is on his way to becoming Student Body President, and Spencer is finally getting his art noticed. But when her boyfriend dumps her for Toile, the quirky new girl at school, Bea realizes it's time to use The Formula for herself. She'll be reinvented as the eccentric and lovable Trixie—a quintessential manic pixie dream girl—in order to win her boyfriend back and beat new-girl Toile at her own game.
Unfortunately, being a manic pixie dream girl isn't all it's cracked up to be, and "Trixie" is causing unexpected consequences for her friends. As The Formula begins to break down, can Bea find a way to reclaim her true identity, and fix everything she's messed up? Or will the casualties of her manic pixie experiment go far deeper than she could possibly imagine?