*waves* Hi everyone! Who's excited for Our Chemical Hearts, out TODAY? We most certainly are and invited author Krystal Sutherland to share her most memorable moments from writing her stunning debut. Take a peek below and check out Our Chemical Hearts, in stores now!
Five Memorable Moments From Writing Our Chemical Hearts
5. Writing the first chapter
It feels like so long ago now, but it was just over two years ago that I sat down at the dining room table in my share house and wrote what would become the first chapter of Our Chemical Hearts. I was almost definitely a) dressed in my pyjamas (my favourite writing attire) and b) procrastinating doing schoolwork. I always find the best time to write is when you're supposed to be doing something else.
4. Absorbing John Green by osmosis
When I moved to Amsterdam, I lived half a mile from the Openbare Bibliotheek where John Green finished The Fault in Our Stars. How could I not go and sit where he sat and look out at what he looked out at and attempt to absorb some of his greatness by osmosis?
3. Finishing the draft
I was in Amsterdam, and it was late afternoon in early spring, still cold enough for puffer jackets and scarves and knit caps. My brain felt the way your eyes do after not sleeping for 24 hours: gritty, heavy, filled with sand. I'd spent the last 72 hours madly trying to get the draft finished so I could send it off to the literary agents who'd begun to request it. When it was done, I walked around the canals as the sun set, and I swear I could feel my characters walking on either side of me. It was sweet, but sad; I knew it was goodbye. Their story was done and they no longer belonged to me alone.
2. Handing in my first round of edits
I was in Sydney, visiting my old housemates in my old share house (the same house I'd started writing in!), when my edits were due. My room no longer contained any furniture, just a spare mattress on the floor that'd been set up for my visit. I spent pretty much a whole week in there, only emerging for food or the occasional shower. Oh the glamorous life of an author!
1. ARCs arriving
When my first two ARCs arrived at my apartment in Hong Kong, I was terrified of them. I couldn't look at them or display them out in the open, so I wrapped them up in my clothes and hid them in my drawers for about a week before I dared to inspect them more closely! The ARCs were the manifestation of years and years of hard work, rejection, and daydreaming; it was incredible to see so much compacted into something so small. Eventually I grew brave enough to look at them and – much to my shock – I didn't wake up. It wasn't all an elaborate dream after all – it was real.
---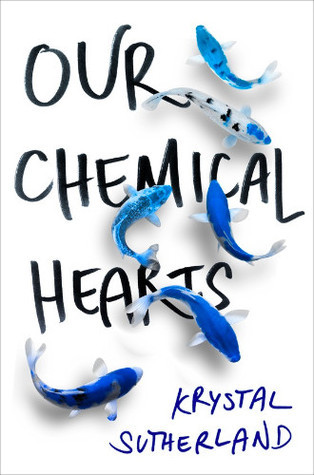 OUR CHEMICAL HEARTS
by Krystal Sutherland
Published: October 4th 2016 <--THAT'S TODAY!
Publisher:
G.P. Putnam's Sons Books for Young Readers
John Green meets Rainbow Rowell in this irresistible story of first love, broken hearts, and the golden seams that put them back together again.
Henry Page has never been in love. He fancies himself a hopeless romantic, but the slo-mo, heart palpitating, can't-eat-can't-sleep kind of love that he's been hoping for just hasn't been in the cards for him—at least not yet. Instead, he's been happy to focus on his grades, on getting into a semi-decent college and finally becoming editor of his school newspaper. Then Grace Town walks into his first period class on the third Tuesday of senior year and he knows everything's about to change.
Grace isn't who Henry pictured as his dream girl—she walks with a cane, wears oversized boys' clothes, and rarely seems to shower. But when Grace and Henry are both chosen to edit the school paper, he quickly finds himself falling for her. It's obvious there's something broken about Grace, but it seems to make her even more beautiful to Henry, and he wants nothing more than to help her put the pieces back together again. And yet, this isn't your average story of boy meets girl. Krystal Sutherland's brilliant debut is equal parts wit and heartbreak, a potent reminder of the bittersweet bliss that is first love.
---
Check out the other blogs on the tour!
Week One:


Monday, 10/3: The Young Folks (Top 5 Reasons to Read Our Chemical Hearts)
Tuesday, 10/4: Tales of the Ravenous Reader (Guest Post) <-- That's us!
Wednesday, 10/5: Katie's Book Blog (Review + Favorite Quotes)
Thursday, 10/6: IceyBooks (Quote Candy)
Friday, 10/7: Lost in Lit (Our Chemical Hearts Look Book)



Week Two:


Monday, 10/10: Once Upon a Twilight (Spot the Fandoms)
Tuesday, 10/11: Here's to Happy Endings (Bookish Recipe)
Wednesday, 10/12: MundieMoms (Guest Post)
Thursday, 10/13: Swoony Boys Podcast (How to Mend a Broken Heart)
Friday, 10/14: Fiction Fare (Guest Post)



Week Three:


Monday, 10/17: Bookworm Everlasting (Review + Instagram)
Tuesday, 10/18: Bibliophile Gathering (Review + Instagram)
Wednesday, 10/19: The Book's Buzz (Broken Heart Advice)
Thursday, 10/20: Buttermybooks (Review)
Friday, 10/21: The Fandom (Guest Post)