Woo! We are here today with Aprilynne Pike, master of amazing book concepts with even more amazing book covers. We had a whole host of questions for her so she's here today to share about her inspiration, writing process, and how Glitter stacks up to her other books.
The question that's on everyone's mind...Where did the idea to write a futuristic Breaking-Bad-meets-Marie-Antoinette come from? Tell us about the inspiration for Glitter.
From Breaking Bad, actually. I really, really loved the series, but the beginning of Season 5 was, for me, kind of saggy. The plot meandered, the characters felt like they weren't acting the way four seasons of characterization would actually lead them to. (Though I will say, for the record, that the second half of S5 came back and utterly redeemed itself!!!) But at that moment, I was frustrated and, as so many writers do when confronted with writing of which they don't approve, I thought, "I feel like I could do better." And instantly on top of that thought was, "But what I'd really rather do is write about girls in pretty dresses." And that is how Glitter came to be.


What was your research process for Glitter like? What's in your Google search history?
I did a ton of research into the actual history of the Palace of Versailles and the people who lived in it because even though it's not a retelling of anything in Versailles' history, per se, a lot of the people in the book do kind of mimic their historical counterparts in an interesting form of homage. I feel like they would have done their own research and picked up little pet phrases or pastimes, etc. So tons of research on that. But I also did so much research on drugs. That's where my search history gets very questionable. I learned what the acronym SWIM means (Someone Who Isn't Me … in other words, it's totally you, but yanno, plausible deniability), and how to brew opium tea, which was my original idea for the drug Danica sells. I learned about belladonna and more than I ever really needed to know about both heroin and prescription opiates. The lesson I came out of my research having learned—and that I hope is the conclusion readers will come to as well—is DON'T DO DRUGS! Man, that stuff will mess you up.
Share your favorite quote from Glitter.
While my absolute favorite line is the last two sentences of the book—which I won't quote here for obvious reasons—my next favorite is about one of my main character, Danica's, two best friends, Lord Aaron:


Some knights appear on white steeds; mine rides bejeweled heels with satin laces.
How is Glitter different from other books you've written?
Oh my goodness, how is it not!?! All of my books have been present day and featuring some sort of paranormal element. From Wings, which was all about faeries, to Life After Theft, which was super realistic, plus a bratty ghost. Glitter is set about 125 years in the future and is technically sci-fi, as the advanced technology is the "magic" so to speak. In addition, my main characters have always been good people trying to do what is right and noble under extreme circumstances. Glitter is populated mostly with people who are self-centered and/or not concerned with what other people thing is right or wrong. My other books have a very casual, modern voice, and Glitter has a formal, almost snobby voice. On purpose. Glitter is just absolutely nothing like anything I've ever written before. I think that my style of storytelling is in there, and that readers will recognize that, but almost everything else is different.


That cover, though! What was your reaction when you saw it?
I was so excited! Because my main character is an anti-heroine and there are a lot of pretty dark things that happen, I expected a dark cover. As in, dark colors. So when I got this white cover with bright pinks and purples it was … shocking! But it was perfect. Sensual but sassy, the font that looks like graffiti, and that perfect hair and dress!! Also, and I know this is a weird thing to love, but I love the smatter of pink powder! Like someone dropped a pot of eyeshadow!

Thanks for stopping by, Aprilynne!
---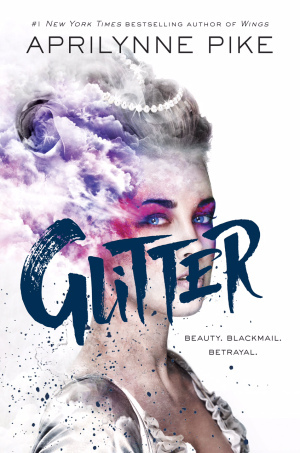 GLITTER
by Aprilynne Pike
Published: October 25th, 2016
Publisher: Random House
Source: NetGalley via Publisher


From #1 New York Times bestselling author Aprilynne Pike comes a truly original new novel—Breaking Bad meets Marie Antoinette in a near-future world where the residents of Versailles live like it's the eighteenth century and an almost-queen turns to drug dealing to save her own life.

Outside the palace of Versailles, it's modern day. Inside, the people dress, eat, and act like it's the eighteenth century—with the added bonus of technology to make court life lavish, privileged, and frivolous. The palace has every indulgence, but for one pretty young thing, it's about to become a very beautiful prison.

When Danica witnesses an act of murder by the young king, her mother makes a cruel power play . . . blackmailing the king into making Dani his queen. When she turns eighteen, Dani will marry the most ruthless and dangerous man of the court. She has six months to escape her terrifying destiny. Six months to raise enough money to disappear into the real world beyond the palace gates.Her ticket out? Glitter. A drug so powerful that a tiny pinch mixed into a pot of rouge or lip gloss can make the wearer hopelessly addicted. Addicted to a drug Dani can sell for more money than she ever dreamed.

But in Versailles, secrets are impossible to keep. And the most dangerous secret—falling for a drug dealer outside the palace walls—is one risk she has to take.
---
About Aprilynne
Aprilynne Pike is a critically acclaimed, #1 New York Times best-selling author of young adult fiction. At the age of twenty she received her BA in Creative Writing from

Lewis-Clark State College

in Lewiston, Idaho. When not writing, Aprilynne can usually be found running; she also enjoys singing, acting, reading, and working with pregnant moms as a childbirth educator and

doula

. Aprilynne lives in Arizona with her husband and their four children.


Website| Wattpad | Facebook | Twitter | Goodreads









---
GIVEAWAY
a Rafflecopter giveaway
---
Check out the other stops in the tour
Week One:
10/17/2016- Tales of the Ravenous Reader- Interview <--Kicking off this tour in style
Week Two:
10/24/2016- Brooke- Reports- Review