Jill over at
Breaking the Spine
started this and I believe that it's awesome" This blog post is to alert those that visit about "the" book that we cannot wait to get our hands on.
Another Week and yes another "traveling" book. This week I have selected TRAVELER by L.E. Delano. The concept of this book is

interesting

where mirror's are the portals to other worlds. I also cannot wait to see how the protagonists try to stop an

inevitable

death that occurs in every reality they travel to. I am also a sucker for it's gorgeous cover because I adore all things nautical in theme.

February cannot get here soon enough.
February 7th 2017 by Swoon Reads
Jessa has spent her life dreaming of other worlds and writing down stories more interesting than her own, until the day her favorite character, Finn, suddenly shows up and invites her out for coffee. After the requisite nervous breakdown, Jessa learns that she and Finn are Travelers, born with the ability to slide through reflections and dreams into alternate realities.

But it's not all steampunk pirates and fantasy lifestyles…Jessa is dying over and over again, in every reality, and Finn is determined that this time, he's going to stop it… this Jessa is going to live.
I am cautiously optimistic about Gayle's first foray into adult fiction. It's a very rare day that I'll read something in the adult category (aka it has to be by a known author) and I've been burned before (looking at you, Landline [Rainbow Rowell]). But I can't resist!
LEAVE ME
by GAYLE FORMAN
September 6th 2016 by Algonquin Books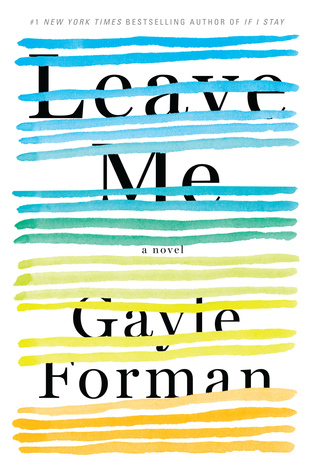 International bestselling author Gayle Forman's trademark humor and insight abound in this masterful adult debut, showing us that sometimes you have to leave home in order to find it again.

For every woman who has ever fantasized about driving past her exit on the highway instead of going home to make dinner, for every woman who has ever dreamed of boarding a train to a place where no one needs constant attention--meet Maribeth Klein. A harried working mother who's so busy taking care of her husband and twins, she doesn't even realize she's had a heart attack.

Afterward, surprised to discover that her recuperation seems to be an imposition on those who rely on her, Maribeth does the unthinkable: She packs a bag and leaves. But, as is so often the case, once we get to where we're going, we see our lives from a different perspective. Far from the demands of family and career and with the help of liberating new friendships, Maribeth is finally able to own up to secrets she has been keeping from those she loves and from herself.

With big-hearted characters who stumble and trip, grow and forgive, Leave Me is about facing our fears. Gayle Forman, a dazzling observer of human nature, has written an irresistible novel that confronts the ambivalence of modern motherhood head-on.