Jill over at
Breaking the Spine
started this and I believe that it's awesome" This blog post is to alert those that visit about "the" book that we cannot wait to get our hands on.
Hello everyone! This week my WoW has taken on a different turn. Maybe it is the startling cover (that just pops) or maybe the idea of someone scheming to thwart party plans, or just trying to survive some difficult times, that has me drawn to this book. I can understand how the simplest of ideas can suddenly spiral out of control and the only way to survive i

s to live it.
GRENDEL'S GUIDE TO LOVE AND WAR
Knopf Books for Young Readers
The Perks of Being a Wallflower meets Revenge of the Nerds in this tale of a teen misfit who seeks to take down the bro next door, but ends up falling for his enemy's sister and uncovering difficult truths about his family in the process.

Tom Grendel lives a quiet life—writing in his notebooks, mowing lawns for his elderly neighbors, and pining for Willow, a girl next door who rejects the "manic-pixie-dream" label. But when Willow's brother, Rex (the bro-iest bro ever to don a jockstrap), starts throwing wild parties, the idyllic senior citizens' community where they live is transformed into a war zone. Tom is rightfully pissed—his dad is an Iraq vet, and the noise from the parties triggers his PTSD—so he comes up with a plan to end the parties for good. But of course, it's not that simple.

One retaliation leads to another, and things quickly escalate out of control, driving Tom and Willow apart, even as the parties continue unabated. Add to that an angsty existential crisis born of selectively reading his sister's Philosophy 101 coursework, a botched break-in at an artisanal pig farm, and ten years of unresolved baggage stemming from his mother's death…and the question isn't so much whether Tom Grendel will win the day and get the girl, but whether he'll survive intact.
Christy's WOW
This book has been on my radar since YallWest but you know what convinced me? A review from my fellow bloggers, YAWednesdays. Do you follow these gals? You should. And pick up Kids of Appetite next week.
KIDS OF APPETITE
by David Arnold
September 20th 2016
Viking Books for Young Readers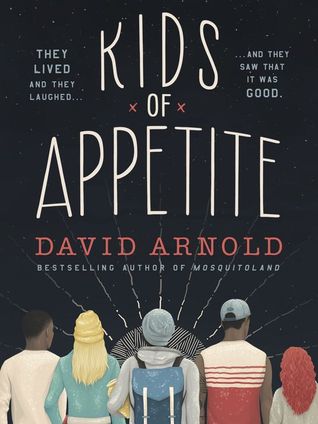 The bestselling author of Mosquitoland brings us another batch of unforgettable characters in this tragicomedy about first love and devastating loss.





Victor Benucci and Madeline Falco have a story to tell.




It begins with the death of Vic's father.




It ends with the murder of Mad's uncle.




The Hackensack Police Department would very much like to hear it.




But in order to tell their story, Vic and Mad must focus on all the chapters in between.





This is a story about:





1. A coded mission to scatter ashes across New Jersey.




2. The momentous nature of the Palisades in winter.




3. One dormant submarine.




4. Two songs about flowers.




5. Being cool in the traditional sense.




6. Sunsets & ice cream & orchards & graveyards.




7. Simultaneous extreme opposites.




8. A narrow escape from a war-torn country.




9. A story collector.




10. How to listen to someone who does not talk.




11. Falling in love with a painting.




12. Falling in love with a song.




13. Falling in love.