I am a huge fan of the gimmick. I can buy into nearly anything that adds a little extra to a book. Replica checks that box by being two novels in one, a book you can read in two different ways. Gemma and Lyra, two interconnected lives with individual stories to tell. So how did I read it?

I debated first, do I read the stories side by side or back to back? I get too distracted going back and forth (looking at you, Nevernight, with all your footnotes!) so back to back way to the way for me to go. But do I read Gemma or Lyra first? I let luck decide, as the e-book was formatted with Lyra's story first. Having read the whole book, I am now glad that is the route I went.

Of the two stories, Lyra's story drew me in something fierce. Why is she locked in this secret facility and what's up with all this testing? I've read enough sci-fi to know nothing good is going on here. The way Lauren Oliver unfolded the story had me hooked and I devoured this part of the story.

About halfway through, Lyra's story ends on a cliffhanger and we begin Gemma's story. I was less drawn to Gemma, though she does have an unknown past. Lauren focused so much on Gemma's weight that it felt like overkill. We get it, she's overweight and has insecurities. Surely she thinks about something other than this some of the time? Anyways, though the stories parallel and eventually intersect, they don't feel as interconnected as I thought they would. Gemma's story seems to tie up and doesn't leave me wanting for more from her.

Together, this is the story of being yourself in a world where replicas - clones - exist. It's nature versus nurture. Lyra is stripped of her humanity and originally given only a number for a name; she's developed her identity as an "it" rather than a person. Gemma, who has a past she is yet unaware of, wants to break out and do her own thing. Both of them need to discover their origin and what it means to be human.

Overall, the most compelling characters are Lyra and the scientists/doctors. The male characters in the book are irritating or forgettable. I felt the male protagonists took away from the story that centered around Lyra and Gemma.

I have a hit and miss relationship with Lauren Oliver novels. I loved Before I Fall but Delirium was not my cup of tea. I feel the same way about this book...Half of it was addicting and the other half I could take or lose. I lost momentum in the last 5% or so, which is interesting to me. I do plan to pick up the sequel, which I hope will be more of Lyra and Gemma together.
Christy
---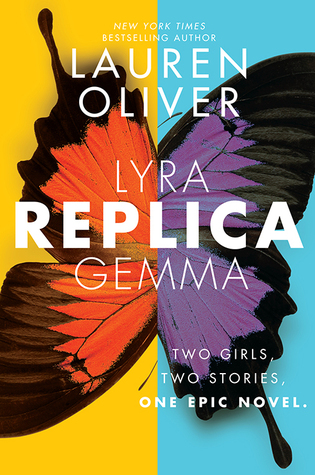 Replica
by
Lauren Oliver
Published
: October 4th 2016
Publisher
: Harper Collins
Source
: Publisher
Gemma has been in and out of hospitals since she was born. 'A sickly child', her lonely life to date has revolved around her home, school and one best friend, Alice. But when she discovers her father's connection to the top secret Haven research facility, currently hitting the headlines and under siege by religious fanatics, Gemma decides to leave the sanctuary she's always known to find the institute and determine what is going on there and why her father's name seems inextricably linked to it.

Amidst the frenzy outside the institute's walls, Lyra - or number 24 as she is known as at Haven - and a fellow experimental subject known only as 72, manage to escape. Encountering a world they never knew existed outside the walls of their secluded upbringing , they meet Gemma and, as they try to understand Haven's purpose together, they uncover some earth-shattering secrets that will change the lives of both girls forever...