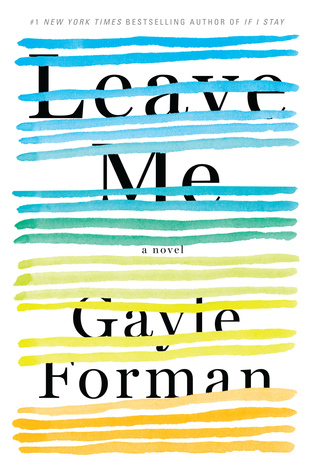 Leave Me


by Gayle Forman




Published: September 6th 2016




Publisher: Algonquin Book




Source: NetGalley via Publisher




Rating: ♥♥♥♥♥





International bestselling author Gayle Forman's trademark humor and insight abound in this masterful adult debut, showing us that sometimes you have to leave home in order to find it again.

For every woman who has ever fantasized about driving past her exit on the highway instead of going home to make dinner, for every woman who has ever dreamed of boarding a train to a place where no one needs constant attention--meet Maribeth Klein. A harried working mother who's so busy taking care of her husband and twins, she doesn't even realize she's had a heart attack.





Afterward, surprised to discover that her recuperation seems to be an imposition on those who rely on her, Maribeth does the unthinkable: She packs a bag and leaves. But, as is so often the case, once we get to where we're going, we see our lives from a different perspective. Far from the demands of family and career and with the help of liberating new friendships, Maribeth is finally able to own up to secrets she has been keeping from those she loves and from herself.





With big-hearted characters who stumble and trip, grow and forgive, Leave Me is about facing our fears. Gayle Forman, a dazzling observer of human nature, has written an irresistible novel that confronts the ambivalence of modern motherhood head-on.
My Thoughts
I am the biggest Gayle Forman fan and yet I had so much hesitation over reading Leave Me. I've actually had the book for quite some time now but I was so worried that I wouldn't like it that I put it off till pretty much the last second.
Boy, was that a mistake!
Leave Me is the perfect adult book for YA readers, because it's pretty much about an adult who says I QUIT to adulting for a bit. Maribeth doesn't rage quit her life; she carefully decides to take a pause from it. Well, first a heart attack forces her into a quasi-pause and later she actively decides to put the brakes on...After she lacks the support she needs to actually recover.
"Would it surprise you to learn that one of the top fantasies for women is a prolonged hospital stay?"
Today's women often juggle the pressures of performing 110% in a work environment that doesn't honor the need for balance with a home life, which is still not even close to equitable (side note: if you're ever feeling like the need to rage, just google that concept...The internet is appalling at times). Sleep, friendships, and personal time are lost in trying to be the main caregiver for the children (and partner), the household (which increasingly includes finances and other nuances), the work atmosphere. Gayle creates a setting where most women can insert themselves and come out on the other side feeling like a hospital stay sounds heavenly (because, let's face it, going on vacation usually means coming back to chores or work undone).
This is an easy book to to get all judgy with the main character. What do you mean she just up and left her husband and kids without notice? How could she do that! You know what? They manage. That's not to say it's the best solution but sometimes removing yourself from the situation is the best thing you can think of. I'd be lying if I didn't have that fantasy at times (and I don't even have kids).
You can expect solid writing, overall solid story building, and engagement that keeps you till the end. I read this one in one sitting, which says something (because I was supposed to be packing for vacation...).
I read a few reviews who said the problem with this and other books by Gayle is the perfect HEA at the end. But really, is it so inconceivable that there are people out there who experience a HEA even in the worst situations? I like to think there are.
Come see Gayle with us this Thursday at Books, Inc - Opera Plaza...Or at a tour date near you.