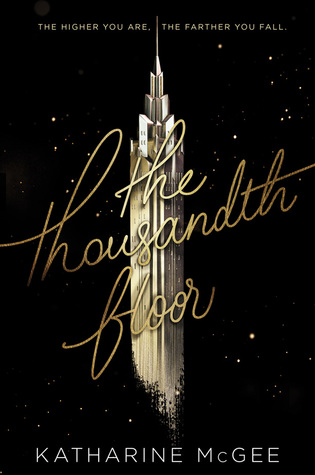 THE THOUSANDTH FLOOR




by Katharine McGee




Published: August 30th 2016




Publisher: HarperCollins




Source: ARC - Publisher




Rating:

♥♥♥♥



New York City as you've never seen it before. A thousand-story tower stretching into the sky. A glittering vision of the future, where anything is possible—if you want it enough.





Welcome to Manhattan, 2118.





A hundred years in the future, New York is a city of innovation and dreams. But people never change: everyone here wants something…and everyone has something to lose.





Leda Cole's flawless exterior belies a secret addiction—to a drug she never should have tried and a boy she never should have touched.





Eris Dodd-Radson's beautiful, carefree life falls to pieces when a heartbreaking betrayal tears her family apart.





Rylin Myers's job on one of the highest floors sweeps her into a world—and a romance—she never imagined…but will her new life cost Rylin her old one?





Watt Bakradi is a tech genius with a secret: he knows everything about everyone. But when he's hired to spy by an upper-floor girl, he finds himself caught up in a complicated web of lies.





And living above everyone else on the thousandth floor is Avery Fuller, the girl genetically designed to be perfect. The girl who seems to have it all—yet is tormented by the one thing she can never have.





Debut author Katharine McGee has created a breathtakingly original series filled with high-tech luxury and futuristic glamour, where the impossible feels just within reach. But in this world, the higher you go, the farther there is to fall….
I've said it before but I so judge books by their cover, and rarely fully read descriptions. Most of the time this works out in my favor, and sometimes I get phenomenal results...Just like I did with The Thousandth Floor.
Someone sold this book to me as Gossip Girl meets the future, which is somewhat true. The Thousandth Floor is set 100 years in the future, where the gadgets are slightly more advanced and the teens are still up to no good. I appreciate the setting that Katharine established - it's not unrealistic to expect the world to look just as she's set it out. Everything is a bit more automated (for those who can afford it) and it's inconvenient to go out in the world when everything is self contained and regulated within the tower.
Personally, I read the hell out of the Gossip Girl and Pretty Little Liars series. But The Thousandth Floor is so much more than the petty drama that often occurred in Gossip Girl. Written in four perspectives, you'd think things would get pretty jumbled but they never do. I was on board the whole way through and always felt like I knew who was where and doing what. The Thousandth Floor makes you care about all of the characters, even the ones you really don't want to like. I was terrified of the path they were headed down, worried about the choices they made. Sometimes I wanted to yell at the book - WHAT ARE YOU DOING!? Alas, free (book) will persevered, to the dismay of all of those who interacted with the four main characters.
The one thing I hope we get more of in the future is the history of the tower. This is a pretty unique structure (one of a kind, actually) so I want to know more about how it came to be and its dark history. With 1,000 stories within this world, I imagine 1,000 stories is not out of the realm!