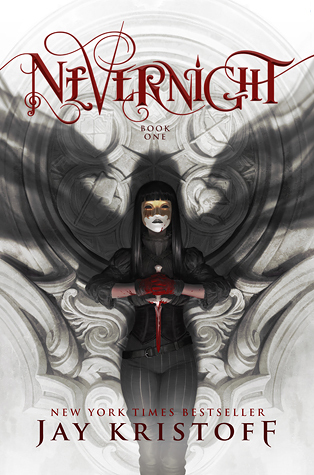 NEVERNIGHT


by Jay Kristoff




Published: August 9th 2016




Publisher: Thomas Dunne Books




Rating:

♥♥♥♥♥

The first in a new fantasy series from the New York Times bestselling author.

In a land where three suns almost never set, a fledgling killer joins a school of assassins, seeking vengeance against the powers who destroyed her family.

Daughter of an executed traitor, Mia Corvere is barely able to escape her father's failed rebellion with her life. Alone and friendless, she hides in a city built from the bones of a dead god, hunted by the Senate and her father's former comrades. But her gift for speaking with the shadows leads her to the door of a retired killer, and a future she never imagined.

Now, Mia is apprenticed to the deadliest flock of assassins in the entire Republic—the Red Church. If she bests her fellow students in contests of steel, poison and the subtle arts, she'll be inducted among the Blades of the Lady of Blessed Murder, and one step closer to the vengeance she desires. But a killer is loose within the Church's halls, the bloody secrets of Mia's past return to haunt her, and a plot to bring down the entire congregation is unfolding in the shadows she so loves.

Will she even survive to initiation, let alone have her revenge?
My Thoughts
Nevernight was my WoW two weeks before release and MAN am I glad the wait is over! And honestly? I could rave about it for days but I think the 4.14 star rating on Goodreads says it all. So instead, we are bringing you a feature on some cool real-life female assassins, a roundup of some of our favorite Nevernight features along with a few thoughts, and...drumroll please...A GIVEAWAY.
What could you do if you had no fear?
First, a few thoughts:
As soon as I started to care about these characters, I was filled with a sense of dread. There is a damn mountain full of assassins, where everyone has a chip on their shoulder and only a few will win. I immediately started to go through the grief process, bargaining with the God that is Jay, PLEASE give me some semblance of a HEA. I need it for this poor broken girl.

That said, I was completely broken at the end myself. The book hangover is REAL. Please send bloody marys and a kitten.

Basically from the torture scenes forward, it was just constant gutting. My heart was hurting heavily.

I'm more of a sci-fi reader and have been lukewarm-to-extreme distaste with any of the fantasy I've read. But Nevernight works. The world building is mostly told through hilarious footnotes and never felt forced. Like, a world with three suns, made from the bones of a dead god. Makes total sense to me.

As for the writing, this is Jay's world and you can take it or leave it. It's not for everyone, and that's ok.

The voice of HBO narrates all 20 glorious hours of the audiobook, which we can't recommend enough.

Smut, smut, and more smut. Delicious smutty bits. Those scenes put romance novels to shame.
You've got the look of a girl who's no stranger to the page. I can tell.
You've got words in your soul.
You want female assassins? We've got female assassins.
Shi Jianqiao, seeking social justice, three headshots at a time
Shi Jianqiao is basically Mia had Nevernight be set in China, 1935. Shi broke into a temple and put three bullets in the brain of a warlord who had executed her dad and had his head displayed on a pike. Three trials couldn't convict her so she went free, a hero to the public.
Judith of Bethulia - Charming the heads off of jerks
Not one to tolerate a bully, Judith took it upon herself to ensure that no bully would continue to harass her people. Using the art of seduction, Judith got military general Holofernes wasted and then chopped his head off. At least she bought him a drink first?
And now...Some Nevernight love.
Sooooo many beautiful editions.
This book trailer, created by our friend and fellow blogger, The YA Book Traveler. (seriously, how great is this?!)
You want interviews? Two Chicks on Books has you covered. Or maybe you're into podcasts. We got you.
— Ursula Uriarte (@Urs_Uriarte) August 5, 2016
SHINY. But now I want it. Well, guess what? We got you covered.
Tales of the Ravenous Reader is partnered with Fashion Junkie 4 Life (who designs and sells beautiful silver jewelry!) in a giveaway that you'll definitely want your hands on. Not only are we giving away a signed copy of Nevernight, but we have thrown in some other swag AND a piece of their jewelry that reminded us of Nevernight. Behold.
a Rafflecopter giveaway