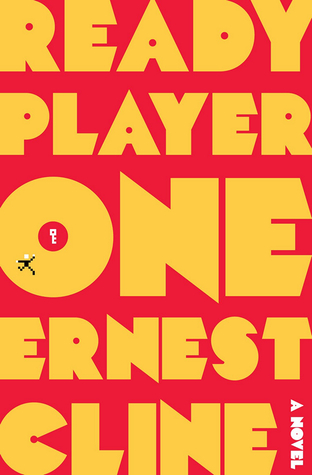 Ready Player One
by Ernest Cline
Published: August 16th 2011
Publisher: Crown Publishers
Source: Audible
Rating: ♥♥♥♥♥
In the year 2044, reality is an ugly place. The only time teenage Wade Watts really feels alive is when he's jacked into the virtual utopia known as the OASIS. Wade's devoted his life to studying the puzzles hidden within this world's digital confines, puzzles that are based on their creator's obsession with the pop culture of decades past and that promise massive power and fortune to whoever can unlock them. When Wade stumbles upon the first clue, he finds himself beset by players willing to kill to take this ultimate prize. The race is on, and if Wade's going to survive, he'll have to win—and confront the real world he's always been so desperate to escape.
My Thoughts:
I am super guilty of having received this in a Loot Crate and not picking it up until I needed a new audiobook, which I have major regret now! So as we now get ready for a movie based on the book (ugh, 2018!), I thought I would share my thoughts with everyone.
Ready Player One gets my vote as "Most likely to actually happen" dystopian novel. In fact, my husband frequently reminds me that he's ready for that "Ready Player One Life". I think perhaps he should read the book ;).
Set in the not too distant future (as in, still within most of our lifetimes), Parzival navigates his way through the Oasis, an online open sandbox "game". His mission? Win a bazillion dollars by solving a hidden Easter egg left by now deceased, 80s obsessed creator, Halliday. Sounds easy, yeah? But then there's this big competition because money and resources are scarce and everyone needs to win. Mayhem and murder take place as everyone rushes to the end. Parzival/Wade is a complex character and his struggles seem very real. His support system, outside of his anonymous online friends, is minimal. You'll really care about him and definitely wish for his win!
For those of us who grew up in the 80s or are 80s adjacent, this story is a nod to the things we hold so dearly from our childhood. Personally, I'd love to be the researcher for this novel because it sounds like a ton of fun.
I can't recommend the audiobook version enough. It's 15 hours long and read by Wil Wheaton (yeah, pretty perfect). Highly recommend!
As a bonus, we developed an interactive experience (a la Rocky Horror Picture Show) for you to use as you're going along (or once that movie comes out).
For the full Ready Player One experience, you'll need to level up with the following props and line participation. Please dress in your punny-est 8 bit referenced tshirt. First timers are N00Bz.
Audience Participation Lines and Prop Execution
Every time Wade complains about how much his life sucks, audience says, "Totally!"
Any time there's a GAME OVER, say a descending beep melody.
When "Ready Player One" is mentioned, make it rain with your plastic coins and yell, PRESS START.
Toss plastic eggs any time the "egg" at the end of the game is mentioned
Hold up your pet rock when Wade says, "People who live in glass houses should shut the fuck up"
Put on the mask when Wade says he was named Wade Watts because it sounded like a superhero.
Toss the paper airplane to the front when the "Shirley"/Airplane joke is made
Any mention of Firefly or Serenity, say, "Let's go be bad guys!"
When Wade says, "I watched a lot of YouTube videos of cute geeky girls playing '80s cover tunes on ukuleles" yell, LIVIN ON A PRAYER
First mention of the Simpsons, take a bite out of your donut and yell DOH.
When challenged to a game of Joust, throw the feathers in the air.
When Wade says, "Overall, she seemed to be going for a sort of mid-'80s post-apocalyptic cyberpunk girl-next-door look. And it was working for me, in a big way" say, "but is she hot?" (he answers, "In one word: hot")
When Wade talks about cereal box toys, throw your toys at the front.
When Wade says "Going outside is highly overrated" put on your shades and say, "The future's so bright I gotta wear shades."
When Wade says, "Lights", turn on your flashlight and point it at the ceiling.
2018 is super far away but a Novel to Reel post will surely be coming! What other books have you read that are geeky or nostalgic?