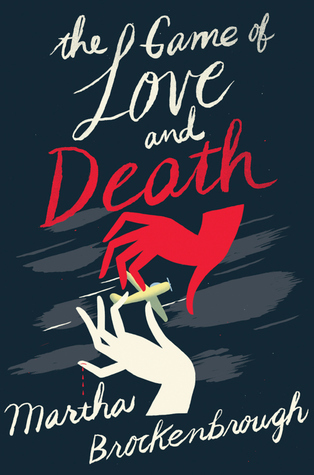 THE GAME OF LOVE AND DEATH
by Martha Brockenbrough
Published: April 28th 2015
Publisher: Arthur A. Levine Books
Rating:
♥♥♥♥
Antony and Cleopatra. Helen of Troy and Paris. Romeo and Juliet. And now... Henry and Flora.
For centuries Love and Death have chosen their players. They have set the rules, rolled the dice, and kept close, ready to influence, angling for supremacy. And Death has always won. Always.
Could there ever be one time, one place, one pair whose love would truly tip the balance?
Meet Flora Saudade, an African-American girl who dreams of becoming the next Amelia Earhart by day and sings in the smoky jazz clubs of Seattle by night. Meet Henry Bishop, born a few blocks and a million worlds away, a white boy with his future assured—a wealthy adoptive family in the midst of the Great Depression, a college scholarship, and all the opportunities in the world seemingly available to him.
The players have been chosen. The dice have been rolled. But when human beings make moves of their own, what happens next is anyone's guess.
Achingly romantic and brilliantly imagined,
The Game of Love and Death
is a love story you will never forget.
My Thoughts:
The Game of Love and Death is one of those books that you go to review and you just feel like you can't put your finger on what you loved or wanted more from.
A tale of fate vs destiny is as old as time (reference Greek god, etc) but what makes this unique is the force behind the destiny. No ominous God or set of gods, just two old friends (with some very real romantic tension) on opposite teams rooting for Love over Death. Or vice verse.
Rather than one love story, The Game of Love and Death feels like two. You have two sets of main characters who are experiencing "life" in tandem, as things happen through and with both parties. On one side is Love and Death, a set of competitors who engineer events in a game of chicken. In the other corner are Henry and Flora, pawns in the game of love and death and determined to make it work in a time when they know they'll never be accepted.
Unlike what you might expect, Love doesn't always do good things, some of the things he does fall in the ethical gray area and Death calls him out for doing things out of character just to win. Death isn't always likeable, but that is to be expected. She definitely takes liberties in playing the game. The two are not God and the Devil be any means. Just two old friends who use humans as playthings.
As I listened to the book, I started to think about all the events in our lives that shape our future. The so called butterfly effect. Imagine if there's someone behind the scenes creating natural disasters or major incidents just to get you to move along so you can fall in love or die (or both). That's terrifying! Free will sounds so much more pleasant.
I enjoyed Henry and Flora's journey alongside Love and Death. Getting to know them was a treat. Living in the 20s was less so, since the author did not shy away from the blatant racism, homophobia, and discrimination that took place in the time. Looking at the time period where aviation was just becoming a thing was eye opening, too. The Game of Love and Death is full of magical realism, so if that's your thing, you've come to the right place.