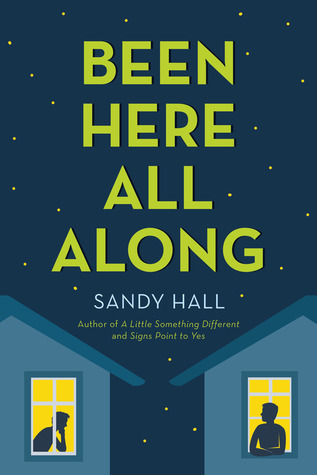 BEEN HERE ALL ALONG


by Sandy Hall




Published: August 30th 2016




Publisher: Swoon Reads




Source: Netgalley




Rating:

♥♥♥♥


Gideon always has a plan. His plans include running for class president, becoming head of the yearbook committee, and having his choice of colleges. They do NOT include falling head over heels for his best friend and next door neighbor, Kyle. It's a distraction. It's pointless, as Kyle is already dating the gorgeous and popular head cheerleader, Ruby. And Gideon doesn't know what to do.

Kyle finally feels like he has a handle on life. He has a wonderful girlfriend, a best friend willing to debate the finer points of Lord of the Rings, and social acceptance as captain of the basketball team. Then, both Ruby and Gideon start acting really weird, just as his spot on the team is threatened, and Kyle can't quite figure out what he did wrong…



My Thoughts
Sometimes you just need a book that guarantees a HEA at the end of it. Look no further than Swoon Reads, which publishes short and sweet YA romance novels with the promise of being like candy! I always enjoy reading these books because I'm all about quick reads that really hit the heart.
I see what you mean. If your life were a teen comedy, tonight would be your night.
Oh, Gideon and Kyle. Your cute little fumbles were just too adorable. A whole lot happened to and with these two. Oh, and Ruby...I get that you're a little jealous for a whole bunch of reasons but you were pretty much a mean girl until the very end. The parents in this book were pretty awesome. It's always nice to see parents who are completely supportive of their kids.
Told in four points of view (Gideon, Kyle, Ruby, and Ezra [Gideon's brother]), the story is somewhat predictable. People who enjoy Simon vs the Homo Sapiens Agenda will likely enjoy this one, too
.