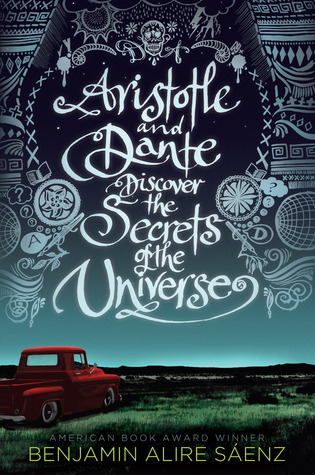 Aristotle and Dante Discover the Secrets of the Universe


by Benjamin Alire Sáenz




Published: February 21st 2012




Publisher: Simon and Schuster




Source: Audible




Rating: ♥♥♥♥♥





Aristotle is an angry teen with a brother in prison. Dante is a know-it-all who has an unusual way of looking at the world. When the two meet at the swimming pool, they seem to have nothing in common. But as the loners start spending time together, they discover that they share a special friendship—the kind that changes lives and lasts a lifetime. And it is through this friendship that Ari and Dante will learn the most important truths about themselves and the kind of people they want to be.
My Thoughts
THIS BOOK HAS EVERYTHING.
Seriously, I just want all kids to have the types of life experiences that Ari and Dante have. The adults in their lives are amazing, their friendship is real, and the things they do and experience clearly set them on their path to becoming who they are.
Words were different when they lived inside of you.
Ari and Dante are bffs, the type of friends who are just as comfortable in silence as they are in social situations. Ari is dealing with some anger and trauma over being an only child who is not an only child as his brother went to prison. You can imagine his parents have some fear over a repeat situation. Dante is a bit more sure of himself and puts himself out there quite a bit. Ari is reserved, which is a contrast at times to Dante's more extroverted personality. But together, they're dynamic. They both recognize when there's weirdness in their friendship and don't let things die down, even when they're separated by distance for a chunk of time. Their parents are perfect (imperfect) examples of what we all want for our kids. They challenge them and support them at the same time. They grow their children while also accepting them for who they are.
Set in the 80s, the discrimination against Dante as a gay identifying teen is real. I worried the whole time about how that might play out. The author kept the setting real while also giving us a story that you just can't put down.
Let's be real here...We are all crying at the end of this book. You can check yourself at the door if you try to say otherwise. Fans of I'll Give You the Sun, Simon vs. the Homo Sapiens Agenda, and Everything Leads to You will love this book. Fans of HAMILTON, if you weren't aware, Lin-Manual Miranda performs the audiobook and it's fantastic. I now want him to do all audiobooks!