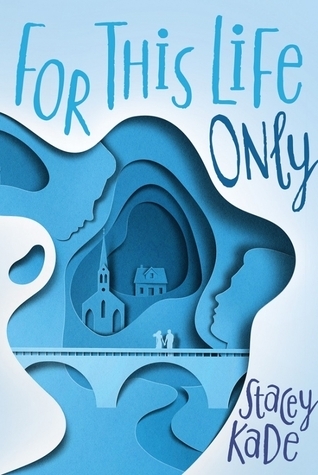 FOR THIS LIFE ONLY


by Stacey Kade




Published: August 30th, 2016




Publisher: Simon and Schuster




Source: Publisher




Rating:

♥♥♥♥♥
LINKS: Amazon | B&N | Indiebound | iBooks | The Book Depository



A young man struggles to move forward after the death of his twin brother in this gripping, coming-of-age tale about loss, redemption, love, and the moment you begin to see the world differently.





Three minutes.





Jacob Palmer died for three life-changing minutes.





And when he woke up, nothing was the same. Elijah, his twin brother, is dead, and his family is broken. Jace's planned future is crushed, along with his pitching arm. Everyone keeps telling him that Eli's in a better place, but Jace isn't so sure. Because in those three minutes, there was nothing.





Overwhelmed by guilt and doubt, Jace struggles to adjust to this new version of the world, one without his brother, one without the certainties he once relied on. And then Thera comes into his life.





She's the last girl he should be turning to for help.





But she's also the first person to truly see him.
My Thoughts


We spent a lot of time putting you back together.
Oh man, Ms. Stacey Kade, you have made my heart go through so many emotions once again (ICYMI: Stacey put out the amazing NA book, 738 Days, earlier this year and it's a top contender for best book of the year for us!). Forewarning: For This Life Only manages to make your heart drop and sing all in the same book. SO.MANY.FEELS.
First, let's meet our characters. You've got Jace and Eli, twins who may or may not be more alike than they realize, plus their sister and parents. Papa Palmer is not only the family Patriarch but the town's beloved Reverend. Eli is following in his father's footsteps while Jace is just trying to be a normal teen, much to his father's dismay. Gotta keep up appearances! On the flip side is Thera, daughter to the town psychic, who can't catch a break thanks to the pressure for her mom to close up shop.
Jace, out at a party with his friends, asks Eli to pick him up and drive him home. The two are driving home when Eli randomly comes out with, "Do you think there's a difference between doing the right thing that definitely hurts one person and doing the right thing that might hurt a lot of people?" Before the two can get deep into the conversation, Eli loses control of the car and Jace's life is forever changed. Upon waking up, Jace learns he not only lost the ability to pitch but also his twin. As you can imagine, Eli's loss impacts a lot of people, from their sister who is constantly worried about Jace's safety to Eli's girlfriend to Thera, who Eli was tutoring and working on another project with.
This book is about putting things back together again, or not, depending on how broken they are. It's about loss and recovery. The moment of Eli's loss was jarring and real. Jace's journey, along with those around him, is raw. Now that he can't play baseball, will he still fit in with his teammates? Will he ever know what Eli was talking about right before his death? What was Thera to Eli, really? Is anything as it seems and can he trust those he thought he knew? Add on top of that the fact that he has a pressure to be perfect in the eyes of a community who holds the cards to his family's wellbeing.
Jace's questioning of the afterlife, thanks to his brief experience, is heartbreaking. Luckily Thera comes into his life, spunky and ready to help him. Stronger than either ever realized. Together, they explore Eli's last words and figure out what he was trying to tell Jace.
It's clear that Stacey poured her heart into this book, both by the writing and through her acknowledgements. I took this book with me to a music festival and sobbed in public as I read through the ending.
And can we talk about this cover!? How gorgeous is it!!!?? I love it and can't wait to get my hands on a finished copy. Many thanks to Stacey for writing yet another book I couldn't put down and left me sobbing at the end.
ABOUT STACEY KADE:

As an award-winning corporate copywriter, Stacey Kade has written about everything from backhoe loaders to breast pumps. But she prefers to make things up instead.

She lives in the Chicago suburbs with her husband, Greg, and two retired racing greyhounds, SheWearsThePants (Pansy) and Shutter. When she's not reading or writing, you'll likely find her parked in front of the television catching up on her favorite shows (Scandal, The Vampire Diaries, Almost Human, The Walking Dead, and Sherlock, among others.)




Stacey is the author of the The Ghost and the Goth trilogy (THE GHOST AND THE GOTH, QUEEN OF THE DEAD, and BODY & SOUL) and The Project Paper Doll Series (THE RULES and THE HUNT). You can find her (far too often) on Facebook and Twitter as well as

http://www.staceykade.com
LINKS: Website | Twitter | Facebook | Tumblr
GIVEAWAY
With the beautiful cover and equally beautiful story, you won't want to miss this one. Enter to win one of three copies below!
a Rafflecopter giveaway
Be sure to check out the rest of the tour!
Week 1:
8/22:
I Turn the Pages - Mood Board
8/23: Tales of the Ravenous Reader - Review <-- That's us!