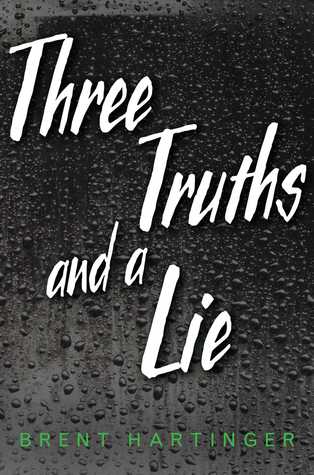 THREE TRUTHS AND A LIE
by Brent Hartinger
Published: August 2nd 2016
Publisher: Simon Pulse
Source: Publisher
Rating: ♥♥♥♥
From Lambda Award–winning author Brent Hartinger comes THREE TRUTHS AND A LIE (8/2/16), a smart, sexy, young adult thriller about a weekend retreat in the woods and an innocent party game that goes horribly wrong.

Deep in the Washington Peninsula forest, four friends gather for one last hurrah before graduation.

Truth #1: Rob is thrilled about the weekend trip. It's the perfect time for him to break out of his shell…to be the person he really, really wants to be.

Truth #2: Liam, Rob's boyfriend, is nothing short of perfect. He's everything Rob could have wanted. They're perfect together. Perfect.

Truth #3: Mia has been Liam's best friend for years…long before Rob came along. They get each other in a way Rob could never, will never, understand.

Truth #4: Galen, Mia's boyfriend, is sweet, handsome, and incredibly charming. He's the definition of a Golden Boy…even with the secrets up his sleeve.

One of these truths is a lie…and not everyone will live to find out which one it is.
My Thoughts:
When was the last time you thought you might die?
Has there ever been a time when Three Truths and a Lie has gone well? Something always comes out that people don't want them to. Add that to a trip to a secluded cabin well out of cell phone range and you've got the perfect recipe for a book that will make you want to yell at the people running up the stairs when they should be running out the door. Fans of 90s/00s horror movies - Scream, I Know What You Did Last Summer, Swimfan - this book is totally for you.
Let's examine our four main characters. Rob and Liam, and Mia and Galen. In this corner, we have Rob and Liam, the perfect couple set out to have the perfect weekend. Both golden boys. Rob has super understanding, chill parents. Liam has a more "realistic" family. Rob is likeable and relatable. Liam is equally charming. On the other side of the ring are Mia and Galen, misfits that somehow fit perfectly. Mia is a bit of a wild child and Galen is the perfect balance for her, with his evenness and slightly mischievous glint in his eye. Mia is slightly irritating with her antics but it's clear she's there to stir up a bit of trouble. No one is as they appear on the surface...or are they?
There's something not right about this town.
The cabin the group is headed to isn't just any cabin. It's a cabin in a scary little town with scary little people. Their first experience is in a Big 5 filled with guns, and they run into the neighbors with longstanding beef with Mia's family. After being thoroughly creeped out, they head deep into the woods, miles and miles off the main road, where cell phones don't work and the most obvious form of civilization is an outhouse that is destined to blow over (and does). Hartinger describes this world in depth, to the point where I could feel the cobwebs and ingrained dust in the cabin. I could see the lake described in the midnight moonlight. I get a chill thinking about the trip wires placed in the yard.
Hartinger leads you down a dark, dark path with the characters. There's one shocking moment after another, at first quite innocent and then becoming darker and darker until you can't see the light anymore. And then when you think you've gone far enough, he takes you further. I closed the book and just sat. What did I just read and how can I trust another person ever again?! I started revisiting moments, kind of like after you get the big reveal in The Sixth Sense. Definitely had to go back and reread parts.
Hey, let's play three truths and a lie...
In the spirit of the book, Nancy and I have created our own three truths and a lie. Take a guess in the comments and create your own for us to guess!
Nancy's 3 Truths & a Lie
Christy's 3 Truths & a Lie