A high school senior finds herself immersed in an online game of truth or dare, where her every move starts to become manipulated by an anonymous community of "watchers."
My Thoughts:
First things first...While the premise of the movie is the same as the book, none of the things that take place in the trailer happen in the book. It's been four years since the book published so I'm sure there needed to be some updating and sensationalizing so I let that go.
Let's talk casting. Do Emma and Dave embody Vee and Ian? How about other characters?
Juliette Lewis stars as Nancy (Vee's mom) and answered questions on a Reddit AMA the day before release, so I asked her what she thought! Here's what she had to say about their casting.
In short, yes, Emma and Dave portray Vee and Ian pretty much on target with their personalities in the book. Emma plays a convincing girl who plays it safe, only to take some major risks throughout the movie. Dave plays Ian as the charming and sweet guy who may have something to hide. Together they're a dynamic couple who risk losing parts of themselves in the name of the game. Most of the action is focused on the two of them so everyone else really is secondary. Everyone is portrayed appropriately, though.
Oh, and Machine Gun Kelly, rapper turned actor, plays an antagonist of sorts.
Ok, so they're pretty great. But what about the plot? We've all seen Allegiant. And Eragon. And The Mortal Instruments. *shudders*
Can we take a moment to say a prayer for the books referenced above and hope that when someone opens a time capsule in 500 years, those cinematic representations will have died out? Anyways.
— Clarissa Woody (@Clarissa_woody) July 27, 2016
I frequently found myself holding my breath through the dare scenes and Nancy was squeaking and shaking her seat. I think I even saw her peeking out through her fingers at times. The short of it? The movie was an adrenaline rush, thrill seeking movie and we loved it. Vee and Ian were put to the test with realistic dares, things you see people do (often unsafely and at the egging on of their peers) either on YouTube or other means.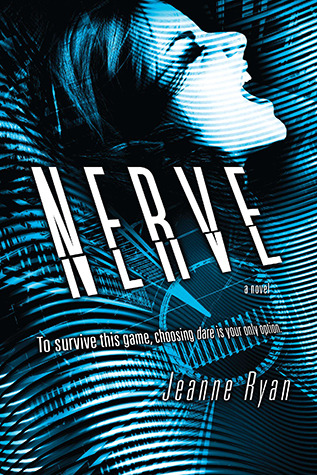 Nerve | September 13th 2012
A high-stakes online game of dares turns deadly
When Vee is picked to be a player in NERVE, an anonymous game of dares broadcast live online, she discovers that the game
knows
her. They tempt her with prizes taken from her ThisIsMe page and team her up with the perfect boy, sizzling-hot Ian. At first it's exhilarating--Vee and Ian's fans cheer them on to riskier dares with higher stakes. But the game takes a twisted turn when they're directed to a secret location with five other players for the Grand Prize round. Suddenly they're playing all or nothing, with their lives on the line. Just how far will Vee go before she loses NERVE?
My Thoughts:
We've learned an interesting rule about fame. Those who seem desperate for it are the people that others least want to see.
This book is sold with the tagline "For fans of The Hunger Games" but really, it's like Hunger Games meets Jackass. Jeanne uses Nerve to explore our culture's obsession with reality tv coupled with taking things a bit too far. She also explores how people can use the information we post online to hurt us.
Vee is desperate for the attention her best friend, Sydney, seems to garner without any effort. In a moment of reckless abandon, she enlists Tommy, obvious guy-who-pines-for-the-girl-who-can't-see-him, to film her completing a relatively harmless dare. Due to a wardrobe malfunction, she earns a fandom (and some new kicks) and is invited to complete more risque challenges.
One of these challenges pairs her with Ian, an attractive boy from a different school. The two of them immediately hit it off and essentially cheer each other on. Eventually they end up in over their heads and there are literal lives on the line.
Nerve goes from zero to sixty in a few pages flat! This isn't a preachy story about starry-eyed people idolizing celebrities; this is a story of how far humans will go if they have the "right" motivation and encouragement. Jeanne effectively pairs our fascination with celebrity and our human nature to succumb to peer pressure (via "watchers" who pay to observe the challenges), and she does it in an equally horrifying and enchanting way. This is the train wreck you can't look away from, even though you know it's going nowhere good.
Reel Story...How did the movie compare to the book?
Our theater was packed with teens and we were some of the few adults there. So much gasping and clapping and everyone on the edge of their seat!
You're still responsible even if you're just watching.
If you go into an adaptation wanting each scene to represent a chapter in the book, you'll be disappointed in Nerve. The director took the concepts - social media saturation, peer pressure, viral mentalities - and "modernized" it to appeal to the current teenage generation. I see this as a good thing because teens really are expected to question their actions (and reactions) and also the amount of information they're sharing. The sentiment remains the same; the execution is different.
All in all? Two thumbs up from the Ravenous Readers.
We dare you to see Nerve this weekend.