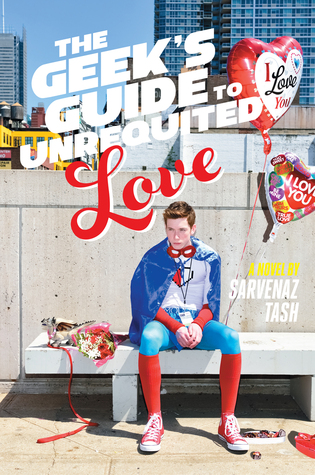 THE GEEK'S GUIDE TO UNREQUITED LOVE
by Sarvenaz Tash
Published: June 14th 2016
Publisher: Simon and Schuster
Source: Purchased (Thanks, Cole, for the awesome bday present)
Rating: ♥♥♥♥
John Hughes meets Comic Con in this hilarious, unabashedly romantic, coming-of-age novel about a teenager who is trying to get his best friend to fall in love with him from the author of
Three Day Summer
.
Peter Parker and Gwen Stacy...
Archie and Veronica...
Althena and Noth...
...Graham and Roxy?
Graham met his best friend, Roxana, when he moved into her neighborhood eight years ago, and she asked him which Hogwarts house he'd be sorted into. Graham has been in love with her ever since.
But now they're sixteen, still neighbors, still best friends. And Graham and Roxy share more than ever—moving on from their Harry Potter obsession to a serious love of comic books.
When Graham learns that the creator of their favorite comic,
The Chronicles of Althena
, is making a rare appearance at this year's New York Comic Con, he knows he must score tickets. And the event inspires Graham to come up with the perfect plan to tell Roxy how he really feels about her. He's got three days to woo his best friend at the coolest, kookiest con full of superheroes and supervillains. But no one at a comic book convention is who they appear to be...even Roxy. And Graham is starting to realize fictional love stories are way less complicated than real-life ones.
My Thoughts:
SDCC is in full swing this weekend and The Geek's Guide to Unrequited Love is a love letter to all things con! As someone who attends many many cons and met their husband at a con(cert but let's be real, a music festival is basically a con for music lovers), this book stole my heart the way one steals glances at their favorite celebrities walking through the crowd.
Every geek has a price...
Our two main characters are Graham and Roxy, two high school juniors who are self described "all-arounders" aka nerds that are equally into comics, books, movies, video games, and tv. They're both invested in their academics and their nerdy extracurriculars, which includes writing/inking a comic together. Graham is a redheaded stepchild (no, really, he lost his mom and his dad has remarried. His stepfamily is lovely, though, and everyone respects each other! He's also literally a redhead.) and Roxy is his BFF who is originally from Iran and helped him through the loss of his mom. Both characters are easily likable and stay that way through the book, as do all of the supporting characters (parents, friends, and others along the way). He's in love with her, she's in love with inking (that's part of the comic book process, for those of you who are new to comics), and together they're in love with John Hughes movies, a canceled comic series from the 90s (The Chronicles of Althena), and New York Comic Con (NYCC), which is where most of the book takes place.
Sarvenaz created a teen rom-com set within the boundaries of the
NYCC, a four day con focused on fandoms of all sorts. This allows her to explore the characters and their interactions within a familiar setting, designed to enhance the parts about themselves that they most love. This is arguably Graham's "80's movie" story of "will the nerd get the girl?", and the NYCC setting is just too perfect. I'm envisioning the movie now - Is Graham Roxy's Duckie or will be her Blaine? He's doing his best to tell her he loves her, first thwarted by crowds stampeding into a ticketed event (where he had planned to get Roxy tickets to see a long hermited writer of Althena), then by the suave (and also geeky) Devin who begins to tag along and catches Roxy's eye, and then again by some bad karaoke that turns a bad day into the worst night. Graham is not easily discouraged and continues his plight throughout the book.
While exploring the world of cons and fandoms, Sarvenaz also explores how a friendship could develop into a romance, and why that might be a bad idea. Or a good idea. Or maybe just an idea period.
This book is filled with quotable lines and passages that make you want to tab or highlight them. Anyone who has done a con the "hard core" way (waiting overnight for a panel, being the ticket RIGHT AFTER the last one is given out, or wearing an obscure costume and being thrilled when someone recognizes you) will appreciate the things that happen in the story. If I had to describe the experience, it is definitely relatable. I'm a fan of contemporaries set in familiar situations (much as You Know Me Well is set during Pride Week), so this appealed to me even more.
All in all, this is an adorable homage to 80s rom-coms, fandoms, and fans of anything and everything adorable.
Nancy and I also wanted to share with you some of our favorite geeky reads to kick off SDCC weekend.
Geek Reads to Get Your Con On by
Slidely Photo Gallery
I encourage you to add this to your TBR and tell us in the comments what your favorite geeky reads are!