I'm Not Her is the Apple "Book of the Week" on the iBookstore starting on May 21st. The book will be offered

free

for this week, and I am happy to inform everyone, so they can get a chance to rediscover the magic of Janet Gurtler's characters and stories.
Feel free to spread the love by tweeting this post with the hashtag #BookoftheWeek
Click
HERE
for your free copy of I'M NOT HER
"For the first time in my life, I didn't feel envy..."
Tess is the exact opposite of her beautiful, athletic sister. And that's okay. Kristina is the sporty one, Tess is the smart one, and they each have their place. Until Kristina is diagnosed with cancer. Suddenly Tess is the center of the popular crowd, everyone eager for updates. There are senior boys flirting with her. Yet the smiles of her picture-perfect family are cracking and her sister could be dying. Now Tess has to fill a new role: the strong one. Because if she doesn't hold it together, who will?
May 1st 2011 by Sourcebooks Fire
ISBN 1402256361
(ISBN13: 9781402256363)
What I'M NOT HER Means to Me
By Janet Gurtler
To me, I'M NOT HER, is a story about self-discovery and learning to embrace who you really are. The story came to me with the image of two sisters at a party, one sister, pretty, confident and popular, dancing to music while the other sister sits alone watching and envying her. I was thinking about how things aren't always as they seem, and what if the perfect sister had her perfection ripped out from her. How would it change both sisters' lives?
I was motivated by showing how our perceptions of people are often different from how they see themselves. In I'M NOT HER, the change for the sister who gets cancer is perhaps more abrupt but both sisters are forced to deal with it.
Internal struggle resonates with me in what I write and what I read. Personal growth is important to me as a reader and author. I'm also fascinated by roles we are assigned in families and how these roles stick to us even though they're often not a true reflection of who we are outside our family circles.
It's funny that we continue to fall into these roles around our families, even in adult years. Personally, I was kind of shy around my sister Tracey when we were teens. She was three years older than me and so much more sophisticated back then. Tracey was taller and thinner (still is) and I envied her.
I did use some of our dynamics in the book sister relationship, but those characters are more forced into growing intimacy while Tracey and I developed ours more naturally. With I'M NOT HER, I wanted to rip away the assigned family roles. The sisters have to find new roles especially as their parents collapse in the face of diversity. The sisters find out how much they can rely on each other.
Also, I firmly believe in ending my YA fiction with hope. In I'M NOT HER each sister has hope for her future, even if the future isn't what she thought it might be.
ABOUT THE AUTHOR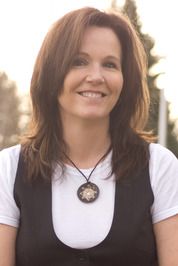 Janet lives near the Canadian Rockies with her husband and son and a little dog named Bruce. She does not live in an Igloo or play hockey, but she does love maple syrup and says "eh" a lot.
Janet only gives 5 stars to the books she reviews because she is an author herself and knows that no book can appeal to everyone, but like a child, it is very special to the creator.
Additional information, Janet's novel How I Lost You was just published this month. Along with a kick-ass interview on Entertainment Weekly's Shelf Life blog:
http://shelf-life.ew.com/2013/05/05/how-i-lost-you-janet-gurtler/
, Janet is also hosting a month-long "YA Authors Talk BFFs" celebration on her blog where she's posting interviews with other YA authors about their relationships with their best friends from their teen years to today. It's actually really fascinating:
http://janetgurtler.blogspot.com/